ZocDoc Honest Review 2021.
While we typically do not think about apps and services like GrubHub, Seamless, or Zocdoc from merchant perspectives (after all, the majority of us are on the consumer end and users of these services due to the convenience factors), we often fail to realize how much these fees add up for annually for participants, meaning restaurant owners and physicians.
I had been using Zocdoc for myself and family quite frequently due to the convenience factor, ease of scheduling, ability to seamlessly schedule and receive appointment reminders, and input insurance information easily.

Best of all, there are usually options to save on time and paper waste by inputing all of the new patient information you'd traditionally fill out in person prior to your appointment electronically using the app itself.
Seemed like the perfect system, and the app would even let me know if I was due for an annual eye or dental exam, eliminating the need for a paper calendar (though haven't those become obsolete in our digital era now anyways)?
Suffice to say after recently reading an article about outrage on behalf of participating physicians and providers due to potential increasing fees and costs for participating and using the service to get new patients and business, I felt a wave of disappointment. As someone with a background in the medical field, there's a personal awareness of the fact that especially for younger medical providers (and those who accept all forms of insurance, and pay large liability insurance costs to boot), they often make much less than we tend to assume, not to mention the accrued debt.
Currently, amidst a large amount of social media pushback on behalf of the medical community, the medical booking app has put its fee structure (which would have increased pricing structures by 7-fold, making it impossible for some providers to continue participating), on hold. But is it still too expensive for some to afford, especially if they're just starting out in the field?
This review will cover the potential recent shifts with respect to Zocdoc fees, if the app is worth it to use, if there is a fair moral playing ground involved (perhaps this is a personal opinion), and some main positives and negatives to consider prior to and during use.
Is it worth it for convenience, and is it fair to the medical community at large to rise service fees?
If you haven't used Zocdoc in the past, it's a fairly convenient system with a very simple to use interface designed to connect patients with providers and specialists in every field under their insurance plans.
You can fill out your own profile using your social media account or personal information and email within minutes, and then input your information and insurance (if desired, although you cannot search for providers covered without selecting a plan unless you're opting for self-pay, but you do not have to input specific group or ID numbers if you don't wish to).

On Zocdoc you can find any general PCP or specialist, and their corresponding patient feedback under any healthcare plan (even Medicare, Obamacare Marketplace or Medicaid options). On a provider end, for a $3000 flat rate annual option, or $8000 3-year plan, you may sign up for a regular listing so new patients can search your profile and begin booking new appointments via the app.
As a provider, there are featured options and further marketing features, if you wish to participate in other forms of advertising and have calculated your CPA (cost per appointment) wisely. This is likely a better option for more established providers, as those newer in the industry who accept more forms of insurance and are dealing with heavy student debt may already view the membership fees as hefty.
Ultimately, the booking system has been a game-changer in the medical field for a lot of reasons and really can't be compared to any other medical system in the digital field. You can search and book physicians using hospital listings, but using Zocdoc and insurance information just seems to have the highest degree of ease of use for medical appointments, and can be done very quickly.
It's also ideal if you've recently changed insurance plans, need a last minute appointment, or need a specialist and want to avoid a trip to your PCP for a written referral. However, there are a few downsides.
And the potential increase in costs this past fiscal year for providers (which has been put on hold) caused a lot of time waste for those in an already demanding field, one which requires a great deal of time and attention, and time spend on helping those in need of medical attention.
So it's a fair assessment that there should not have been a need for a large medical community to have to had spent time and attention on social media to fight a potential seven-fold service fee increase that could have negatively impacted their practices and livelihoods.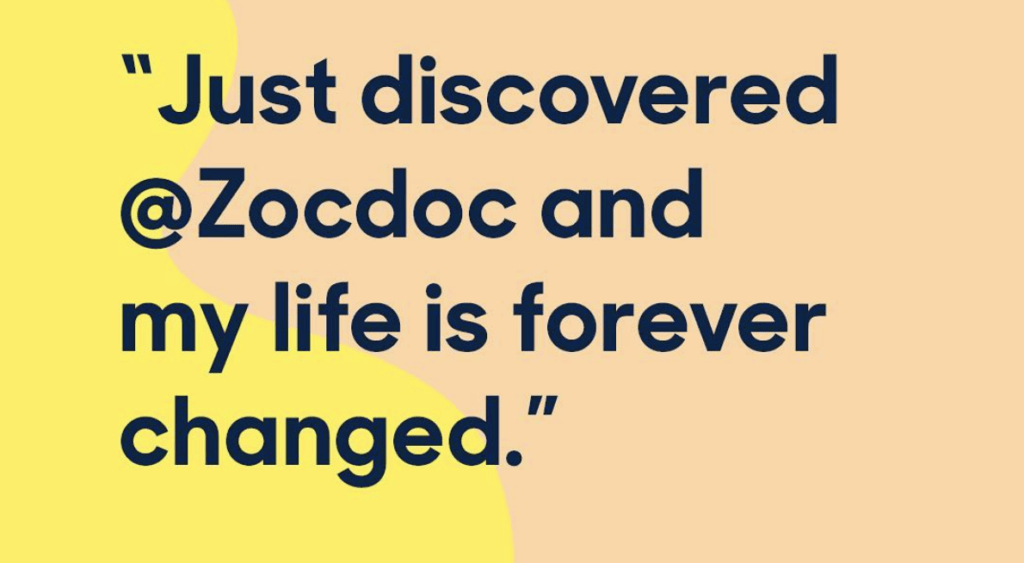 Zocdoc Pros & Cons
Pros
For patients: ease of booking new appointments under insurance plans and finding new providers and specialists
Ease of appointment reminders via text, email or call
Ease of input that saves on times in office and paper waste
Can fill out individual insurance information electronically, along with other information prior to appointments
Can view scheduled reminders for due appointments (i.e. annual eye exams)
Can read physician feedback and reviews and see if providers have opted to hide their personal feedback or reviews
If your insurance has recently change, you can schedule new appointments quickly and easily with new providers
Many providers have a lot of available time slots and you can easily select whichever time and date is most convenient for you
For providers and doctors: the system helps generate new business and attracts new patients who may not have found you otherwise
For providers and doctors: the system may also help generate returning patients who prefer the ease of an online portal in favor of long hold times using traditional call methods
For providers and specialists: you are allowed to fill out a profile with more information about your style of medicine and practice and a brief introduction to help attract new patients to the business and generate better fits
All insurance plans are covered under the app, even Medicare, Obamacare Marketplace and Medicaid options (this may seem like a pro or con for you dependent on personal political affiliation, but the company is inclusive, which feels overwhelmingly positive for those in need of healthcare)
Great for those in need of urgent or last minute appointments
Providers interested in further marketing can use featured and sponsored features and calculated their own CPA (cost per appointment), and use features like Zocdoc weekly newsletters (this can be viewed as a positive or negative for both patients and providers, and as with any marketing endeavor, success is dependent on how it is used and calculated)
Cons
For new providers or those who accept all or any insurance plans, the cost of the service can be extremely expensive (at $3000 per year), especially considering accrued student debt and rates of potential cancellations, which may be higher for those using the app casually and first time appointments
Cancellation rates may be higher for those using the app if it feels less personal (i.e. you are not on the phone speaking to a "human voice" or forming a connection), which wastes on time and money for a provider
Glitches in the system can often lead to rescheduled or missed appointments, the app often mistakes a provider for accepting your insurance, only to inform you quickly via call or email that the provider does not accept the plan
Patients who do not attend appointments are allowed to leave potentially false feedback, and patients are allowed to potentially leave multiple negative feedback if desired
Providers are not allowed to respond to patient feedback or provide personal commentary
The need for a medical community to waste time and effort in responding to the potential huge service fee increase created a waste of time for a group of people that could have been spent doing work in helping those in an important industry, which seems extremely unfortunate
Zocdoc seems to filter reviews to keep them mainly positive using several methods (incentivized via payments by providers), profanity is not allowed and will be removed, hints of misdiagnose will be removed, pricing specifications will be removed, accuracy of diagnosis may be removed, and treatment specifications may be removed, this is why you may notice if you search a provider you will find they have negative reviews across other sites and much higher rankings on Zocdoc