Breezy HR review
Breezy HR is web-based recruiting and hiring software that provides an applicant tracking system, or ATS, resume parsing, sourcing tools, video interviews, and more.
As of October 2019, Breezy HR has partnered with Asurint, a background screening platform, giving Breezy HR users the option of background checking in their recruitment process. Automated background checks helps Breezy HR users create a more complete candidate profile before making a hire, without the need for additional background checking services.
Updates:
Updated 22nd of January 2020
Pricing rose from $149 for the startup plan and $249 for the business plan to $171 and $479, respectively.
Updated 6th of February 2020
We corrected our review, which stated that Breezy does not have a job marketplace. It does, in fact, have one.
Updated 17th of March 2020
We corrected the pricing for all of Breezy HR's pricing, and added information about its features and customer reviews.
Get Started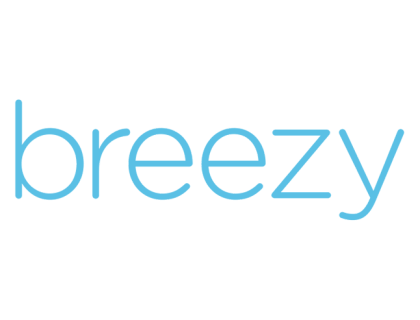 Free "Bootstrap" plan for 1 position
Unlimited users and candidates
Access to 50+ job boards
Pros and Cons:
Pros
Drag and drop functions allow you to easily move candidates into columns according to hiring stage and position applied for.
Teams can communicate seamlessly to update each other or assign tasks.
Automatically post jobs to several boards.
Cons
Customer support is only available through Email.
Review:
Breezy HR is our top choice for paid and free applicant tracking systems because of its extensive range of features and excellent reputation. Breezy HR pricing is affordable, with multiple packages to suit the needs of different businesses.
Highlights:
Allows team collaboration.
Pricing is affordable and a free package is available.
Breezy HR posts to several job boards automatically.
Shortcomings:
Customer support is provided through Email instead of telephonically, which some clients find less effective.
Reputation:
Breezy HR has a BBB rating of A+. Software Advice posted the reviews of 869 people, giving Breezy HR an average rating of 4.5/5 stars. Out of those reviews, 60% of customers gave Breezy HR a 5-star rating. Most customers are very happy with the service provided by Breezy HR and claim that its pricing is incredibly affordable.
Pricing:
| Plan Name | Monthly Pricing | Monthly Pricing Billed Annually | Annual Pricing |
| --- | --- | --- | --- |
| Bootstrap | Free | Free | Free |
| Startup | $171.00 | $143.00 | $1,430.00 (2 months free) |
| Business | $479.00 | $399.00 | $3,990.00 (2 months free) |
| Pro | Contact Breezy HR for pricing | Contact Breezy HR for pricing | Contact Breezy HR for pricing |
Annual Pricing Discount
Clients get two months of service free when you pay annually.
At-a-Glance:
| Feature | Breezy HR |
| --- | --- |
| Automated Job Posting | ✔ |
| Team Collaboration | ✔ |
| Interview Scheduling | ✔ |
| Career Page Customization | ✔ |
| Resume Parsing | ✔ |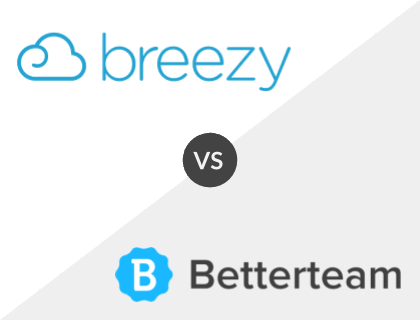 Breezy HR vs. Betterteam:
Breezy HR allows users to drag and drop candidates into categories, leave team notes, or assign tasks. Jobs are posted automatically. Betterteam allows users to create a career page, make notes about candidates, and automatically posts jobs to relevant job boards.
Breezy HR vs. Betterteam Comparison:
| Feature | Breezy HR | Betterteam |
| --- | --- | --- |
| Automated Job Posting | ✔ | ✔ |
| Team Collaboration | ✔ | x |
| Interview Scheduling | ✔ | x |
| Career Page Customization | ✔ | ✔ |
| Resume Parsing | ✔ | x |
Breezy HR vs. Zoho Recruit:
Breezy HR offers an extensive range of features like resume parsing, a company career page, team collaboration, automated job posting, and interview scheduling from within the Breezy portal.
Zoho Recruit automatically posts your job listing to multiple job boards, extracts data from resumes, rates candidates according to how well they match your job listing, and runs background checks.
Breezy HR vs. Zoho Recruit Comparison:
| Feature | Breezy HR | Zoho Recruit |
| --- | --- | --- |
| Automated Job Posting | ✔ | ✔ |
| Team Collaboration | ✔ | ✔ |
| Interview Scheduling | ✔ | x |
| Career Page Customization | ✔ | ✔ |
| Resume Parsing | ✔ | ✔ |
| Background Checks | ✔ | ✔ |
| Candidate Rating | ✔ | ✔ |
See our detailed comparison.
Features:
Drag and drop candidate management.
Users can create columns to organize stages of hiring and drag and drop candidates into the appropriate category.
Team collaboration.
Team members can send messages from within Breezy to update each other and discuss what needs to be done next.
Automated job posting.
Breezy automatically posts to top job boards, saving you time.
Schedule interviews from within Breezy.
Use Breezy to set appointment options and let candidates choose a slot that suits them. This minimizes time spent trying to coordinate schedules and find a time that works for everyone.
Key Information:
News & Activity:
FAQs:
What is Breezy HR's price range?
Breezy HR pricing goes from $0.00 to $479.00 per month. Breezy HR also has a Pro plan that you'll need to get a price quote for.
How much does Breezy HR cost for a small business?
A small business that does infrequent hiring can probably get by with the free plan. If you're doing more regular hiring, you may want to consider the "Startup" plan at $171.00 per month.
What do I do if no email confirmation from Breezy HR came?
This is typically an issue for candidates. Some companies don't have an email confirmation setup. If you don't hear anything for a couple of days you can always email the company to ask.
With Breezy HR, can you preview jobs before going active?
Breezy HR allows you to preview postings when you are creating or editing the position. Look for a link to the posting in the application tab. The position will need to be active but doesn't need to be posted anywhere. Be sure free job boards are disabled.